Finally, I got the nursery cleaned out of just about everything. We still have a litter box and the spare bed in there, but everything is clean and the closet is emptied of all but baby gear. We even bought baby-sized clothes hangers to help organize all the onesies we've already received as gifts, and some of the many baby hoodies I've knit. We're planning on purchasing a closet organizer, so we'll have somewhere to put all of our little one's blankets and toys – we already have quite a few!
We haven't decided yet what we'll be doing with the twin bed that we've been keeping in the room. Up until now, the space we're using as a nursery has been used as a guest room. We expect that with an infant, we'll have fewer overnight guests, but we also have the downstairs couch, so the twin bed will see much less use from those outside the household. However, depending on how well the little one sleeps, it may be convenient to keep a bed in there so I can stay nearby overnight if necessary. Our bedroom is only across the hall, but my husband works in the morning, so it may be more conducive to his sleep schedule if I'm the only one hearing it when the baby wakes in the middle of the night.
See Our Nursery Pinterest
See Our Baby Registry
The next step in putting everything together is most likely going to be the decoration. The big, white wall where the crib will be placed is very bland right now. We don't plan on painting, as all of the plaster walls in our house share the same off-white color, and my OCD (the real, actually diagnosed kind) will not allow having only one room a different color. Also, being pregnant, I'm not really allowed to be around paints, and my husband has much less time for such projects. So, the big question is how to spruce it up.
In last week's post, I asked you to answer a poll for me, to help us decide which of four quotes we would put up. The poll is still open, if you haven't voted. At first, we considered doing a wall decal, but have since decided to have the quote custom-printed on burlap by a wonderful Etsy seller and frame it. That will take up less space on the wall than we had intended with the decal, so there's still plenty of space left to cover.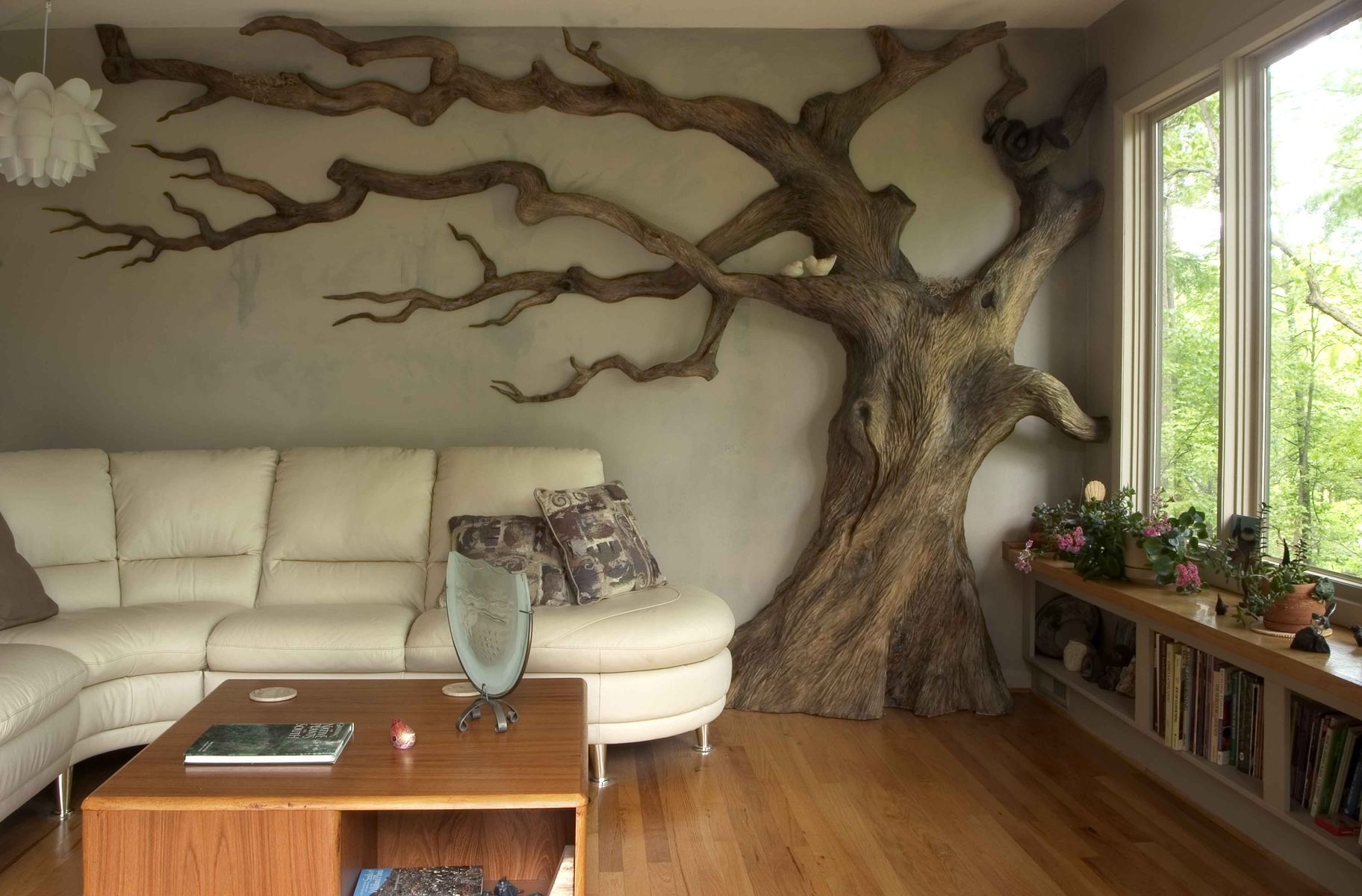 Of course, the best place for someone like me to go to find inspiration on these matters is Pinterest. Our log cabin had made it easy to settle on a forest theme. I started searching using terms like "rustic woodland nursery." If you click on the button above, you can see some of the ideas that really struck a chord with me, which I added to my nursery board. One of my absolute favorite pins that I found was the three-dimensional tree wall decoration you see on the left. It had been shared and reshared by numerous blogs, so it took some real effort to track down the original, but I eventually succeeded.
To my surprise and amazement, the site it was originally featured on not only provided a description of how the item was made, but also provided an option to have someone come and create and install the item for you! Unfortunately, I don't have the funds necessary to pay someone to build this tree for me, nor the carving skill required to make it myself. Sadly, this specific decoration will have to remain a dream for me, but hopefully my legwork in tracking down the source will allow someone else to realize that dream.
Although I was somewhat disheartened, I knew there would always be a "next best thing," and I would most likely find it on Etsy. I found some wall decals of trees that I absolutely loved. Of course, they did not have the same three-dimensional aspect, nor the realism of my initial find, but they were beautiful.
I found a seller with amazing designs, and I saved the links to her merchandise. Some decals were more expensive than others, but they were all far less pricey than hiring someone to come to my house to build and sculpt such a large custom design. Decals are easy to ship and easy to apply. Therefore by splurging just a tiny bit, I would have an easy and gorgeous way to give my nursery that little burst of extra flair and flavor, bringing the forest theme to the next level, instead of just relying on the architecture of my house (lovely as that may be).
Once the walls are done, we can start putting in the furniture, and making the space not just pretty, but usable as well.